A New Bird Control Barrier for Commercial and Residential Buildings
BirdSlide® is the ultimate solution for all roosting and nesting bird problems. BirdSlide® can effectively deter Pigeons, Swallows, Sparrows, Crows, Seagulls, and virtually all other birds no matter of it's size from landing, roosting or nesting on it's surface after it has been installed. BirdSlide® is designed to be easily adjusted to any corner or ledge.
more | Custom Option | Product List
-Ideal for multi-story buildings, parking structures, warehouses, aviation hangars, and homes.
-100% effective against all roosting and nesting birds
-Easy to install and long lasting protection
-Easily color-matched to structure
-Harmless to birds and environmentally safe
Custom Options
BirdSlide® comes in different lengths and colors
Anywhere from 4ft to 18ft! perfect for long ledges
Products
View our long list of products and parts!
Not sure about a part or installation? This explains and lists everything you need to know.
Check out our Tutorial Installation videos *New
Swallow Season
Spring means Swallows and Swallows mean Nests under eaves. See how BirdSlide® effectively deters Swallows.
Bird News and Features

California's peregrine falcons, once driven to the edge of extinction by the pesticide DDT, now are contaminated with record-high levels of other toxic chemicals that may threaten them again, The Times' Marla Cone reports...
>>More

International Migratory Bird Day - The annual International Migratory Bird Day (IMBD), held this year on May10, celebrates the animal kingdom's frequent fliers...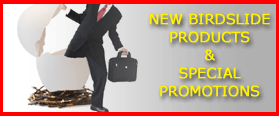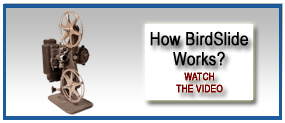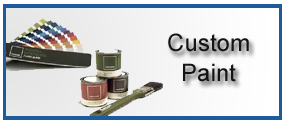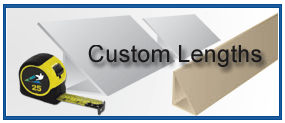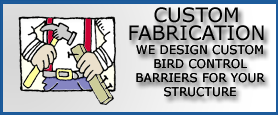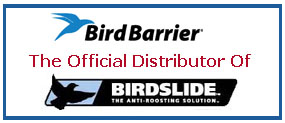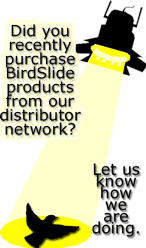 TESTIMONIALS
Your product provided an effective shield against the roosting pigeons and more importantly it preserved the visual appeal of our homes. Tom - Homeowners Association President - Laguna Hills, CA
We tried other products like spikes and netting and neither solved the problem of nesting pigeons in our eaves. I was amazed how quickly your product worked and how nicely it looked after it was painted. Amy- General Manager Carrows Restaurants
I was amazed how easy your product was to install and how it kept all the pigeons out of our parking structure. Your product really works and I would recommend it to anyone. Mitchell - Facility Operations Director - Denver, Colorado

INSTALLER LOGIN